Last Night as I was Sleeping
Last Night as I was sleeping.
1st February 2020 
I felt to dedicate a blog to one of my favourite poems. I first found it in a book called "Witness to the fire, Creativity and the Veil of Addiction" written by Linda Schierse Leonard, a jungian analyst and existential philosopher. The book explores the connection between addiction and creativity and examines the lives of some great renowned artistes and people in recovery. It has a hopeful and inspiring message that was transformative for me.
She describes the poem as expressing "the transformation that can happen when one learns to dwell receptively, to watch and listen and be open to what is" 
The process of 12 step recovery essentially is to open one up to finding their own 'god' or 'inner guidance' of their own understanding, and we find this by continuing to practice Step 11, prayer and meditation on a daily basis, so becoming still, open, receptive.
Below is a drawing I made just before I went in to recovery, it feels even more symbolic now, in retrospect, Hummingbirds resting on an empty ribcage carcass. I loved the image when I first drew it, it felt hopeful and full of life, now I realise it marks the beginning of my new life which is full of hope and I do hope you enjoy this poem as much as I do….
Last night as I was sleeping,
I dreamt—marvellous error!—
that a spring was breaking
out in my heart.
I said: Along which secret aqueduct,
Oh water, are you coming to me,
water of a new life
that I have never drunk?
Last night as I wassleeping,
I dreamt—marvellous error!—
that I had a beehive
here inside my heart.
And the golden bees
were making white combs
and sweet honey
from my old failures.
Last night as I was sleeping,
I dreamt—marvellous error!—
that a fiery sun was giving
light inside my heart.
It was fiery because I felt
warmth as from a hearth,
and sun because it gave light
and brought tears to my eyes.
Last night as I slept,
I dreamt—marvellous error!—
that it was God I had
here inside my heart.
Is my soul asleep?
Have those beehives that labor
at night stopped? And the water-
wheel of thought,
is it dry, the cups empty,
wheeling, carrying only shadows?
No, my soul is not asleep,
It is awake, wide awake.
It neither sleeps nor dreams, but watches,
its clear eyes open,
far-off things, and listens
at the shores of the great silence. 
Antonio Machado (1875-1939)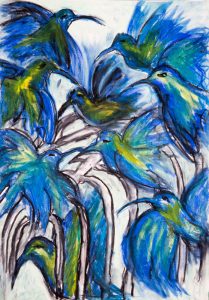 BirdSong, 2012 – Oil pastel on paper